Showers | Mirrors | Splashbacks | Balustrades | Pool Fences
Precision Glazing.
Smart Design
Specialists in custom glass solutions, we ensure that every installation meets the highest standards. With a skilled team and a focus on customer satisfaction, we deliver exceptional craftsmanship and personalized solutions for residential and commercial projects.
Contact Us
Premium Products
NZ Fabricated. Custom Made to Size
Over 30 Years
Servicing Auckland Since 1993
Installation Experts
New Builds, Renovations or Commercial
Glass Supply Options
Delivery or Collection Options in Auckland
Welcome to Haynes Glass
100% NZ Owned and operated. Auckland's Glass Installation Experts.
About Us
We view every kiwi home as a special investment warranting attention to detail in all construction elements and finishings. It's more than just glazing to fit a purpose. It's about adding value. We aim to improve the lifestyle of each and every one of our customers with quality glass products, installed to a high standard.
We are committed to delivering exceptional craftsmanship in new builds, renovations, and commercial construction. Our expertise extends to creating innovative glass solutions that enhance the aesthetics and functionality of diverse spaces, enriching the environments where people work and live.
Residential Glazing
Residential glass and glazing solutions. Quality fixtures, installed to a high standard. Our team takes pride in delivering tidy installations, ensuring that your home is bringing that vibe of style and functionality.
Residential Services
Commercial Glazing
A true 'kiwi quality' build requires an experienced glazing team who know their stuff! From compact projects to multi level building interiors. We have the experts to handle your glazing requirements
Browse Services
Trades & Contracting
We work closely with builders and architects. If you are part of the construction industry and may be interested in working with us on-going, register and visit our trade section for pricing and offers.
Trade Area
Who we are
Haynes Glass was established in 1993 by Peter Hayne and operated out of a small factory in Moore Street, Howick. Much of the early days were spent fixing broken windows, installing showers, mirrors and replacing windscreens. In the two decades since we have taken on new product lines and become experts in balustrades and splashbacks. Most recently we have added larger scale commercial projects to our mix taking Haynes to the next level. We work closely with architects, builders, home owners, renovators and commercial fit-out operators. We are your go-to, can-do kiwi family glass business!
About Us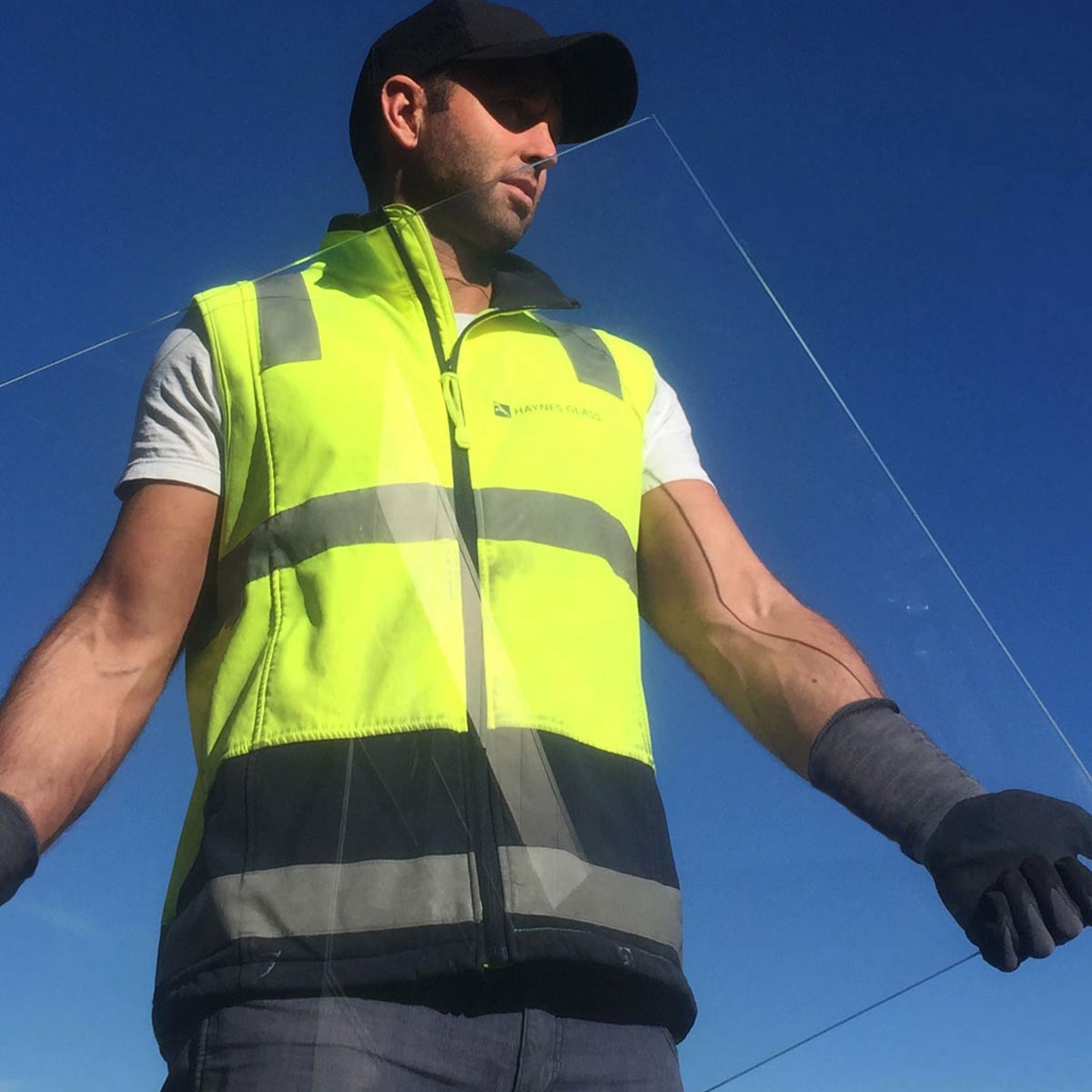 Why choose Haynes
Safety
Members of the glass association of New Zealand (GANZ), we take pride in our standard of safety and always glaze in accordance with the latest NZ building codes. We provide producer statements for our glass projects on request.
Problem Solvers
Faced with a challenge, we apply a combination of experience, intuition and logic to come up with our glazing solutions. Our team stays current with the latest advancements and techniques in the glazing industry, allowing us to tackle complex projects with confidence and efficiency.
Innovators
We embrace the exploration of fresh ideas, engaging in meaningful discussions about potential enhancements and expanding upon them. With a keen eye for aesthetics, we strive to incorporate new elements of glass design, leveraging its versatility to bring an added touch of modernity to our projects.
Hard Workers
We have a bunch of hardworking employees who start their days at the crack of dawn. With a commitment to punctuality, we often rise in the early hours or work late to ensure timely project completion. Our flexible schedule contributes to the company's reputation for reliability and dependability.
What was said..
Customer Reviews
Loren A
Shower Customer
" Great communication and service from initial contact through to quote through to installation. And very happy with our new glass shower screen - looks stunning. "
01.
Steph
Shower Customer
" Very happy, great quality. Very professional. Haynes were the only company that could offer us a gunmetal frameless shower glass channel to match our gunmetal tap ware. The lead time was super fast and the very competitively priced. Would use again and recommend them to anyone. 10/10 "
02.
Maria J
Repeat Client
"Haynes glass have done a few jobs for us and it has always been well done, easy communication and a great price, highly recommend."
03.
Iain
Glass and Mirrors
"Just want to congratulate the team on a professional job. It's all about the finish and you guys delivered an excellent product. Thank you for always being responsive to my e-mails as many trades people these days let the customer down. You excelled in all areas with a challenging job."
04.